Heat Resistant Terrace Tiles
Shipra Tiles introduces for the FIRST TIME IN EASTERN INDIA, Heat and Water Resistant Terrace Tiles for plain concrete roof. It significantly reduces the roof's bottom surface (ceiling) temperature by 8 to 10⁰C and also work as a water proofing material over the roof. Shipra's Cool Terrace Tiles is designed specially to keep your home cool and pleasant. Made with advanced technology, it has the power to lower the roof's surface temperature up to 20⁰C which not only keeps the heat out of your house, but also brings down the use of Air conditioners and electricity consumption.
Shipra's Heat Resistant Tile is manufactured using high quality white minerals which is effective in withstanding any climatic temperature. The entire tile is made up of Twin bind technology which results in high flexural strength and high heat reflective nature. We have 2 variants of Cool Terrace Tiles. Type-1  is Ceramic based and Type-2 is Cement based.
By using our tiles you can lower the laying cost which is very pocket friendly when compared to other materials.
Shipra's Heat Resistant Roof Tiles are very easy to install and maintain, so just FIT & FORGET.
SOLAR REFLECTANCE INDEX (SRI) – 100

Why Shipra's Heat Resistant Roof Tiles ?
Excellent heat insulator (reduces 8-10 degree Celsius of the ceiling temperature).
High SRI value – 100
The push to lower temperature inside home for thermal comfort.
Proven energy efficiency, environmental responsibility, heat resistance, and long term performance.
Saves big on electricity by lowering energy demand.
Anti-skid, Water resistant, Eco-friendly and Low cost.
The way to extend the life of roofs, since a cooler roof would tend to undergo less expansion, and thus experience less wear and tear under the sun.
User friendly installation.
Very cost effective and it requires no maintenance.
| | | |
| --- | --- | --- |
| VARIANTS | CERAMIC BASED COOL ROOF TILES | CEMENT BASED COOL ROOF TILES |
| Colour | White | White |
| Size | 300 mm x 300 mm | 300 mm x 300 mm |
| Thickness | 9 mm (+/- 1 mm) | 20 mm (+/- 1 mm) |
| Water Permeability | Impervious to water | Impervious to water |
| Weight | 1.8 kg | 4 kg |
| Solar Reflectance Index (SRI) | 98 (ASTM:E-1980) |  100 (ASTM:E-1980) |
| Solar Reflectance | 0.78 |  0.783 |
| Thermal Emissivity | 0.89 |  0.92 |
Comparison  between  the  Temperature  (in degree C)  of  Normal Roof  &  the  Roof  where  SHIPRA's  Heat  Resistant  Roof  Tiles  is  laid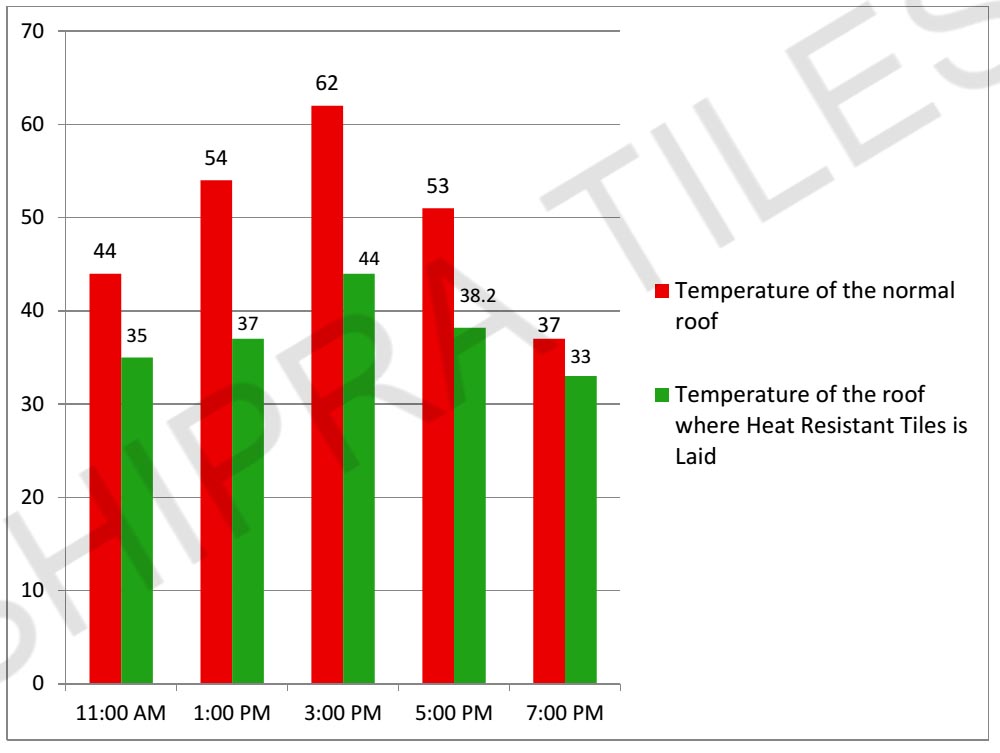 Testing date: 20th May 2019
Testing Place: Patna
Atmospheric temperature: Max – 42 deg C, Min – 28 deg C
Wind: 7 Km/hr from East, Humidity: 41 %
 CONVENTIONAL ROOF TEMPERATURE = 62°C
ROOF TREATED WITH SHIPRA'S HEAT RESISTANT TILES = 44°C
COMPARISON CHART
Parameters
Heat Resistant 

 Roof Tiles

Mud Phuska
Lime Tracing
Earthen Pot

 Treatment

Brick Bats
Approximate Total Cost (including

Labour )

 

Rs.60-65/sqft

 

Rs.75-80/sft

 

Rs.100/sft

 

Rs.90-100/sft

 

Rs.70-80/sft

Heat Resistance

(Ceiling Temp.)

Very effective

(8 to 10 deg.C)

Not effective

Less effective (3-4 deg. C)

Less effective

(3-4 deg. C)

Not effective
 Water Proofing
No need of extra water proofing over the tiles
Needs another layer of water proofing
Needs another layer of water proofing
Needs another layer of water proofing
Needs another layer of water proofing
Dead load over the roof
60 % lighter than the other

alternatives

 Very heavy
Extremely heavy
 Very heavy
 Very heavy
Workability
User friendly installation
Very difficult
Extremely

Difficult

Very difficult
Difficult
 Eco-friendly
Yes
No
No
No
No